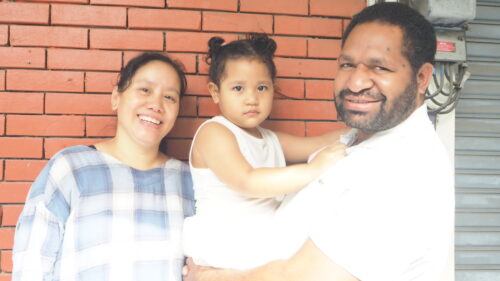 About Paul and Nancy, a missionary couple who have committed and sacrificed their lives to serve in God's mission away from their home countries. God has used them in various ministries in different places, churches and Associations, both within their countries of birth and overseas. Currently the Mondos Missionary Family are attaching to The Bible League Thailand Foundation as volunteer missionary family involving in evangelism and church planting ministry among Thai people. Paul is coordinating
Thailand Bible-based Literacy program
, while
Nancy is recovering from recent Brain Hemorrhage (stroke)
.
Calling
Paul received calling to become a missionary, while he was studying a the University of Goroka. PNG World Mission team held a missions seminar with the Tertiary Students Christian Fellowship (TSCF). The Spirit of God used the event and changed Paul's heart toward God's Mission. Nancy received her calling to become a missionary as a teenager at home church (Yachem). After completing her  high school, she was enrolled in a Bible School, where she continued until she finished her MDiv and serves as a fulltime missionary all her life.
Training
Paul successfully completed his TESOL training in Chiang Mai, Thailand. Paul is a teacher by profession. He completed his Theological degree at Christian Leaders' Training College, Banz, Papua New Guinea. In addition, Paul went through cross-cultural training in Kuala Lumpur, Malaysia and also was certified as a TESOL (Teaching English to Speakers of Other Languages) teacher at Chiang Mai, Thailand. Currently, Paul serves as trainer and coordinator of Thailand Bible-based Literacy program under The Bible League Thailand Foundation. Nancy is a Theologian. She completed her Masters of Divinity degree in India. She was involving in teaching ministry when she received call to serve as a full time missionary. She went through cross cultural missionary training at the North East Center of Training and Research (NECTAR). At the same time, she received training and was certified as a TESOL teacher. She served in Thailand among Hmong tribal people for three years before meeting Paul.
Marriage and Ministry
In 2015 Paul and Nancy met in India. After much prayers, thoughts and consideration and approval from their families from both countries, they agreed to marry and continue serving as missionaries. On the 18th of March, 2016, Nancy's church and family in Nagaland, India have arranged Paul and Nancy an engagement and marriage sendoff party. On the 6th of August, 2016, at 2:00 PM, they were pronounced husband and wife at St. Mathews Lutheran Church at North Goroka, Papua New Guinea. That date reflected their faith in God and prayerfully waiting patiently for God's appointed time. Soon after their marriage, the missionary couple went back to India, committing their lives to involve in a  full time and a long term ministry. Not long, Zeme Baptist Association of Nagaland invited them to manage one of their rundown primary school, which the young missionary couple accepted the invitation and moved to one of the remotest part of Nagaland. After running the school, for six months, the young missionary couple received a special invitation from the Director of the Bible League Thailand to serve under the Thailand Nationwide Vision 2020 and beyond. After much prayers and thoughtful considerations, Paul and Nancy have decided to take on the challenging journey of faith to move to Thailand. In July 2017, Paul and Nancy (Nimbine) moved to Thailand, and been serving with the Bible League Thailand till present.
Contact details:
Paul and Nancy The Bible League Thailand Foundation, 81 Sukhasem Road, Patun, Muang, Chiang Mai 50300 Thailand. Tel. 053-409-626, 081-296-4662, Fax. 053-409-627 Websites:  
The Bible League Thailand
Line: Nim051017 WhatsApp: 66982252990