Nancy's Medical Progress and Financial Update of Nancy's Medical Donations From 04 January – 26 February 2022.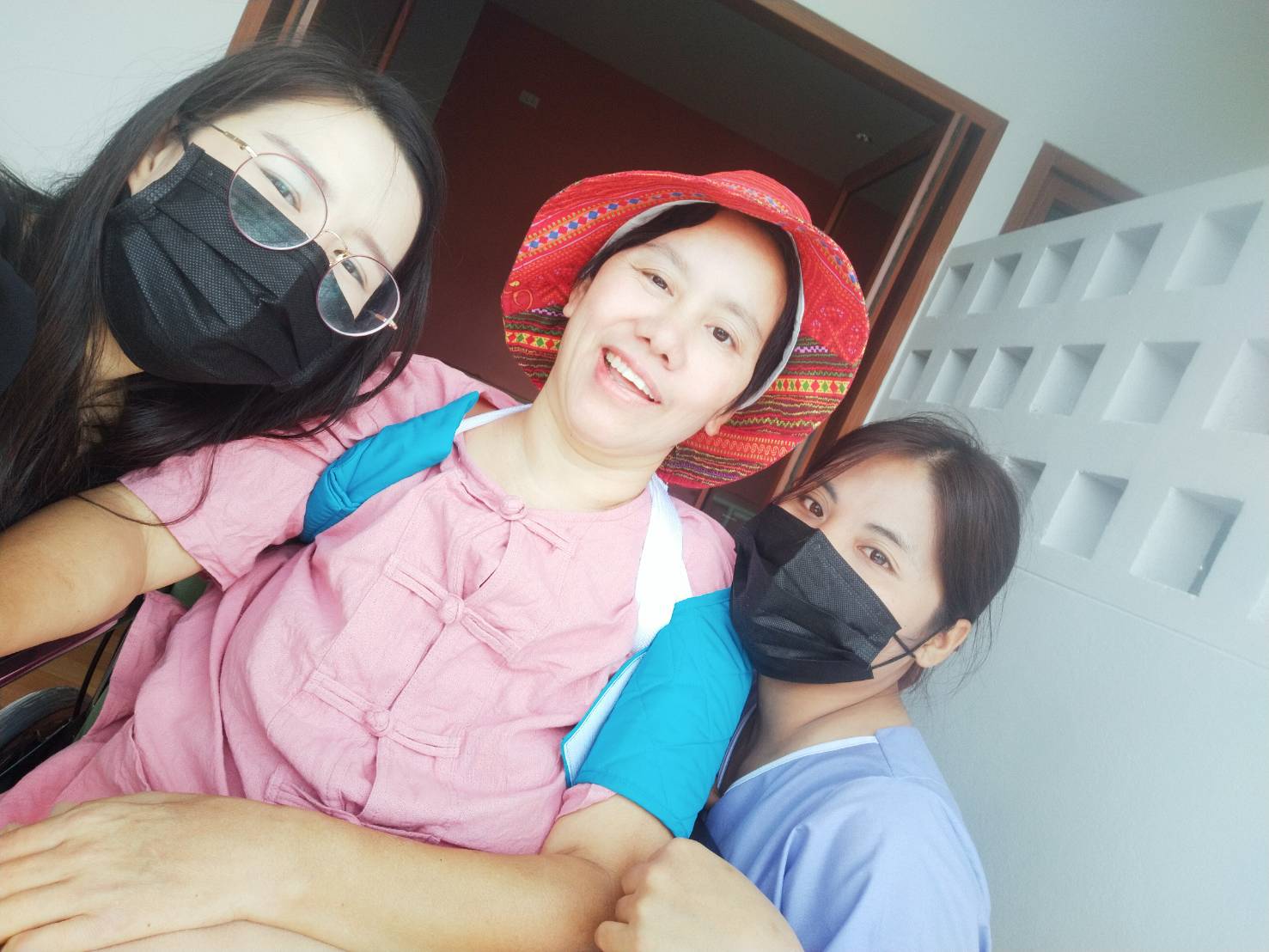 Nancy's first week @ nursing home with nursing staff.
On 28th of January, at around 5PM, Nancy was transferred from McCormick Hospital to the nursing home (Nopburi Elderly Care Chiang Mai).
First week after assessing Nancy's condition, the doctor and nurses and therapists at the nursing home aimed to train and work with Nancy to help her to sit on bed by herself.
After 30 days at Nursing home, Nancy's progress as follows;
She can eat normally and can eat solid food.
She is able to sit on the bed by herself, but needing more strength and balance.
She is able to control right leg and right hand using her left leg and left leg.
She is able to sit on the wheelchair without support. She is practicing to pull her wheelchair forward and backward.
Her understanding and memory is normal.
She is improving in her speeches. She speaks well in her dialect when we do video calls with families from India. Her voice is slightly and progressively improving.
Her right leg (toes) make slight movements. He right hand show no sign of movement, but her shoulder muscles able to contract and relaxes. The therapist is focusing on training the muscles on Nancy's right hand and right leg.
Currently, Nancy's overall health is good. I am arranging with Nakornphing hospital for Nancy to undergo final brain surgery (cranioplasty) to replace her skull bone, which was removed during the first two surgeries. I am expecting to pay THB60,000.00 to THB100,000.00 for cranioplasty.
At nursing home, I am paying THB30,000.00 monthly. This fees include, rehabilitation, food (three meals per day), nursing, health checkups. In addition, I pay for her diapers and medicines.
I explained to Nancy helping her to understand the importance of rehabilitation and her recovery after receiving messages through emails and whatsapp. It took me five days to convince her to agree to remain at the nursing home until she is strong. That would also depend on how much finances we have available to keep her at the nursing home.
Nimbine is slowly getting close to her mother, but with a little fear in her mind. They able to hug each other and talked to each other for a number of times.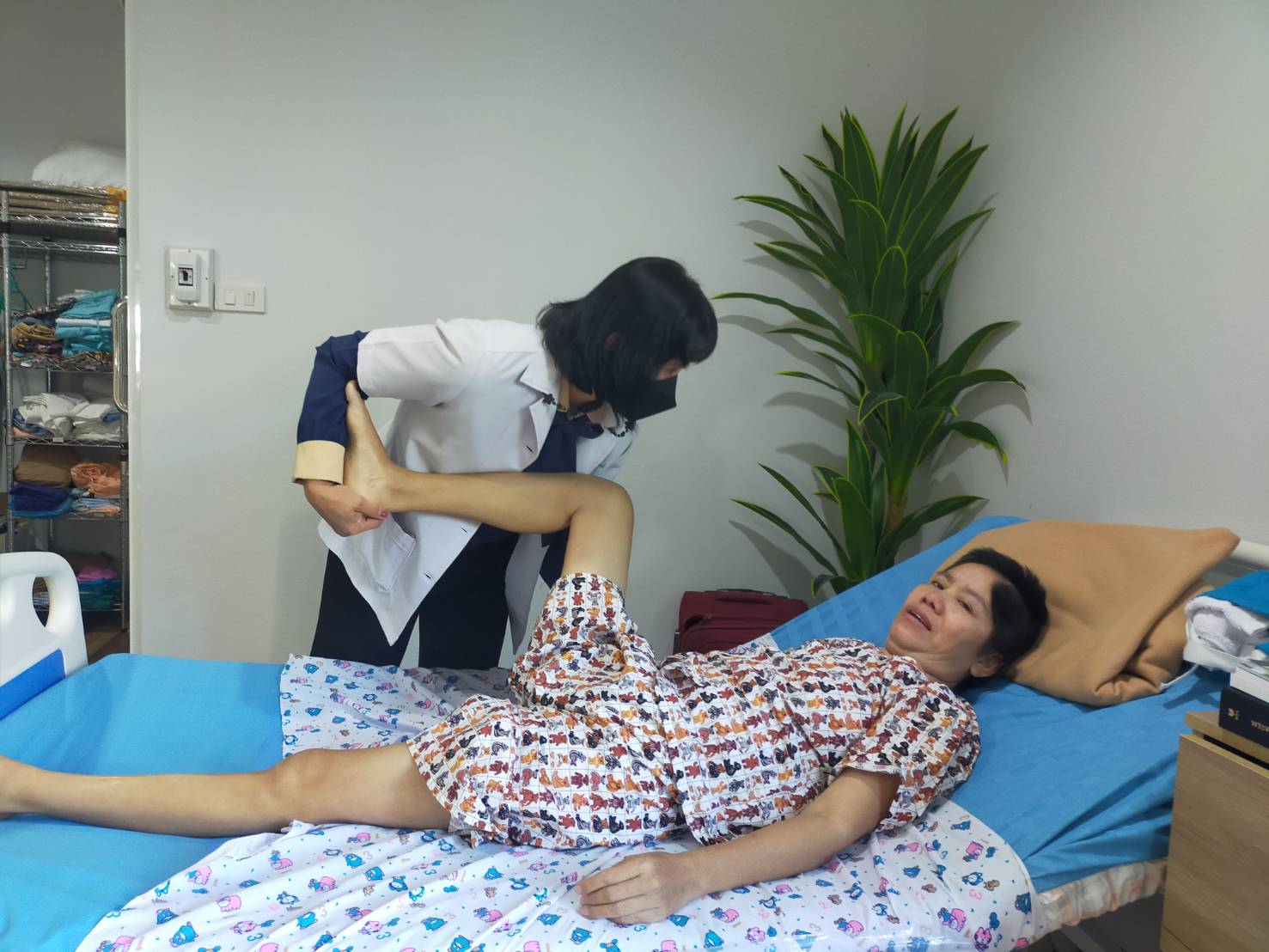 Prayer and Praise
Nancy's affected brain cells to become fully active and function again so that more words can be processed for her to speak and movements from right leg and right hand to occur.
Nancy's​ voice box and muscles along her throat to be healed and to regain strength​ so to help her speaking more words audibly. Praise God for Nancy is eating normally.
Praise God for Nimbine able to go closer to her mother. Continue to pray for her to be totally freed from the fear.
Pray for Paul to be guided by God's wisdom in making decisions for the family and ministry into the future.
Financial provision for Nancy's admission to Nursing home and rehabilitation program and for Nancy's final brain surgery (cranioplasty).
Praising God for His provisions of finances through His people, which covers total cost of THB500,237.00 at McCormick hospital for a month of treatment. 
Thank you​ for​ all​ the prayers, encouragements, and financial support you have sent. You all are becoming God's mighty hands of providence and comfort during this challenging time of our young family. May the Lord​ bless you and be gracious to you all now and always.
Financial Update of Nancy's Medical Donations – 04 Jan to 26 Feb 2022.
Donations Received from organisations and institutions: 04 Jan – 26 Feb 2022.

Bible League Germany Office – THB38,000.00
Asia Ministry (Global Ministry Team) Malaysia office – THB29,371.75
Donations received from Individual:

Cash donations – THB4,000.00
Bank transfers – THB18,274.91

OVERALL TOTAL DONATIONS RECEIVED =THB89,646.66 + THB207,467.00 (Remaining balance of donation as of Jan 03 2022) = 297,113.66
Medical Expenditures from 04 Jan to 26 Feb 2022
23 Jan 2022: Nancy's Medical Bill at McCormick Hospital (Private Christian hospital) – THB90,000.00
28 Jan 2022: Nancy's Medical Bill at McCormick Hospital (Private Christian hospital) – THB68,000.00
29 Jan 2022: Nancy's Medical Bill at Nopburi Elderly Care (Nursing Home) – THB30,000.00
25 Feb 2022: Nancy's Drugs at McCormick Hospital (Private Christian hospital) – THB3671.00
Fuel, Car service, diapers and others – THB20,000.00

TOTAL AMOUNT SPENT FROM 04 JAN to 26 FEB 2022 = THB211,671.00
Total Remaining Balance of Donations as of 26 Feb 2021
REMAINING BALANCE OF DONATIONS AS OF 26 Feb 2022: THB297,113.66 – THB211,671.00=THB85,442.66
Nancy, Nimbine and I, from the depth of our hearts really appreciate your many unending prayer supports, encouraging words and financial gifts to us.
God bless each and everyone of you, always.
Paul.